The EU and the Nato have proved crucial in bringing together their member states around a coordinated response to Russia's invasion of Ukraine. Recognising the continued Russian aggression, the two organisations recently signed a joint declaration committing to play mutually reinforcing, complementary and coherent roles while also reaffirming Nato as the foundation of Euro-Atlantic security.
"Complementarity", among other things, has been a key message as the two organisations have been operating within one another's core policy areas in response to the Russian aggression.
The EU has continued acting beyond its historical division of labour with Nato, according to which the EU would deal with civilian aspects of the conflicts and leave military matters to Nato. For instance, the EU has mobilised its European Peace Facility to provide €3.6 billion in support of Ukraine's armed forces, who are being trained by the EU Military Assistance Mission (EUMAM).
There has also been an increased awareness within the EU for the need for stronger defence capabilities, increased defence expenditures, collaborative defence procurement and dealing with strategic shortfalls in an environment of hybrid warfare where large-scale conventional armies are accompanied by more mobile forces and modern technologies.
It is notable that in these areas, European states and their transatlantic partners (the US and Canada) have also been active through Nato. And – importantly – despite increased EU attempts for further integration in security and defence policies since Russia's aggression, the EU leaders have been explicit that Nato remains as the "cornerstone of European security".
At a time when Nato was seeking to diversify its attention to other major challenges – China, for example – Russia's invasion of Ukraine has refocused the alliance on European security. Right now the focus is firmly on Nato's "significant other", Russia – against which it was established in the first place.
Since the invasion, Nato has been the primary platform of security policy coordination between the US, Canada and their European allies. Nato has in particular been instrumental for the transatlantic community in mobilising and deploying military personnel and equipment to reinforce its armed presence in eastern Europe. At the same time, similar to the EU's approach to avoid direct armed confrontation with Russia, Nato has endorsed a balanced approach by refraining from direct use of force in Ukraine.
Hard questions of cooperation
An important challenge for the members of the EU and Nato is to make the most of each organisation's distinct advantages. Each organisation has strengths and experience that are relevant for dealing with the multifaceted challenges of Russia's invasion of Ukraine. The EU has significant expertise in a wide range of policy areas including trade, sanctions, energy and refugees. Together with the EU's recent membership vision for Ukraine, Brussels' toolkit will be highly relevant not only for tackling Moscow, but also for the reconstruction of a post-conflict Ukraine.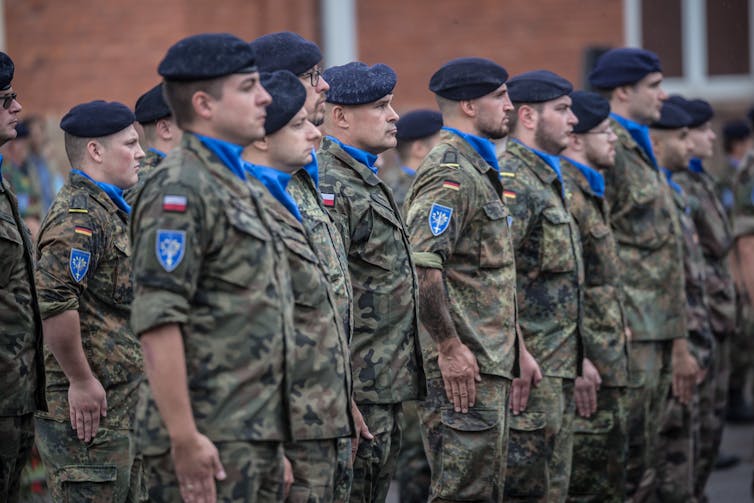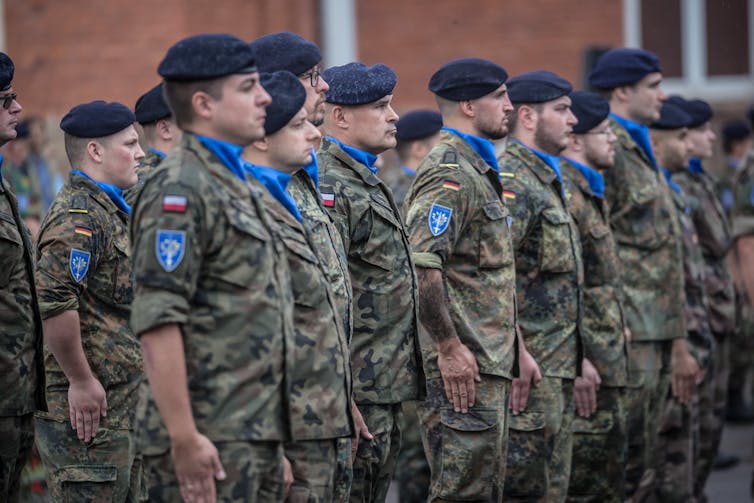 Nato, meanwhile, is not only the primary platform for the west's military presence against Russia's aggression, but also provides the most reliable venue for the US and Canada and their European counterparts to coordinate their policies. Furthermore, as a nuclear alliance, Nato is the west's first collective response to Russia's threats to go nuclear in Ukraine.
A nuclear escalation is difficult for both the EU and Nato to rule out given Russia's recent suspension of its participation in the US-Russia nuclear arms control agreement, known as New Start.
---


Read more:
Russia pulls out of New Start nuclear treaty – we've already seen how such agreements have limited aggression against Ukraine


---
Russia's continued aggression has also brought about a range of questions – old and new – on the strength and relevance of the cooperation between the EU and Nato. While its members have increasingly been using the EU as a platform to coordinate their distinct national security and defence policies, some EU members are still seeking to keep a long-held separation between the two organisations where the EU would be used as a civilian force and Nato as a military deterrent.
In this vein, the EU's distinct expertise in facilitating domestic reforms in potential members such as Ukraine will be more important especially for the reconstruction of Ukraine and implementing a potential settlement in the country.
Member state primacy
Both the EU and Nato enjoy a certain degree of autonomy from the control of individual member states. But the two bodies are ultimately what their members make of them. So an underlying factor that can hamper effective EU-Nato coordination is the divergent views across the members of the two organisations. Research shows that the differences between member states of the two organisations can endanger cooperation. For instance, members of both organisations can use their positions in the EU negotiations to affect decisions made in Nato (and vice versa).
Such "hostage-taking" behaviour was seen in the EU and Nato missions in Afghanistan, where France limited Nato's efforts for the reconstruction of Afghanistan's security forces to the military domain, and preferred EU leadership in community police training programmes in the country. Such strategic use of EU and Nato membership is still relevant, as seen in Hungary's potential veto against Finland's Nato membership in order to pressure Brussels over its concerns about the state of democracy in Hungary.
So it's vitally important for Ukraine that the separate but overlapping responsibilities and mandates of the EU and Nato work smoothly, as such confusion or competition could hamper the common goal of defending Ukraine's territorial integrity and finding mutually agreed ways for the reconstruction of a post-invasion Ukraine.