Within the space of a week in February 2022, England and Wales were affected by three severe storms (Dudley, Eunice and Franklin). Persistent heavy rain led to the flooding of around 400 properties and severe flood warnings were issued for several major rivers, including the River Severn. Now, the UK Met Office is predicting that England is again set to experience severe flooding in February 2023 – a prediction the forecasters attribute to a global weather phenomenon called La Niña.
El Niño and La Niña are the two separate phases of the El Niño southern oscillation (ENSO). This is the name given to the phenomenon of irregular annual variations in sea surface temperatures (by as much as 3℃), air pressure and rainfall across the Pacific Ocean. A La Niña event is characterised by significantly lower sea surface temperatures in areas of the Pacific.
Further research is needed into the effects of global weather systems on winter weather in the northern hemisphere. But wide variations in Pacific sea surface temperatures can set off a chain reaction of extreme weather across the world. La Niña can destabilise atmospheric pressures in the Atlantic Ocean and lead to heavy rainfall in western Europe and the southern US.
But other factors may also contribute to the Met Office's flood prediction. These include the long-term impacts of climate change and urban development in areas prone to flooding.
Global weather patterns
During a La Niña event, cooler water decreases the temperature of the air immediately above the sea and causes it to sink. This creates large areas of low pressure in the Pacific Ocean which generally lead to increased rainfall in the surrounding region.
However, these extensive low pressure areas force pools of high pressure northwards towards Europe. This manifests initially as drier and colder weather conditions in the UK as the seasonal rains brought by low pressure rain-bearing depressions from the Atlantic are blocked by persistent high pressure conditions.
The first half of December 2022, for instance, marked the coldest start to a UK winter since 2010. The monthly temperature average was 1.3°C lower than the December average between 1991 and 2020.
Powerful storms are instead likely later in the season. As the high pressure recedes and La Niña shifts jet stream patterns northwards, the usual pattern of westerly depressions is allowed to resume. Cooler-than-usual Pacific ocean temperatures in recent months have prompted scientists to predict that there is a 76% chance that La Niña will persist until the end of February 2023.
Favourable conditions
La Niña conditions may result in heavy late winter rainfall. But the UK is experiencing increasingly extreme weather conditions all year round. The long-term impacts of this could create conditions favourable for flooding.
Southern England faces long periods of drought each summer. Last year, the Anglian, Thames and Wessex water supply regions all recorded their fifth-driest summer since 1836.
This has increased the risk of flooding as ground surfaces become less permeable to rainfall infiltration. Despite recent low intensity rainfall, the risk of flooding in the areas affected by drought may still be high. Cold temperatures, like those experienced in December, may also return later this winter and further reduce the ground's capacity to absorb water.
Underground, chalk aquifers dominate central and southern parts of England. These aquifers, like sponges, have a finite capacity to accept and transmit fast flowing water. Heavy rainfall may therefore be forced over land where it can flow rapidly. Research indicates that above ground, water can flow at up to 100 times the speed of its flow through aquifer rock.
This water flows into sewers and rivers and can overwhelm their natural or operational capacities. Rivers then break their banks and cause flooding.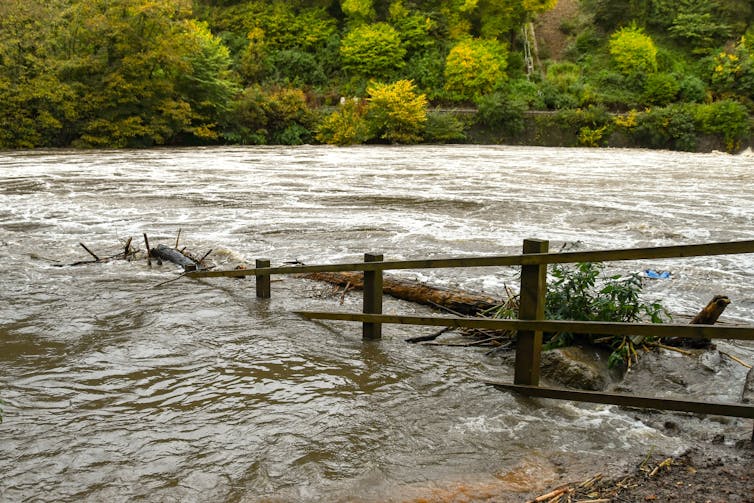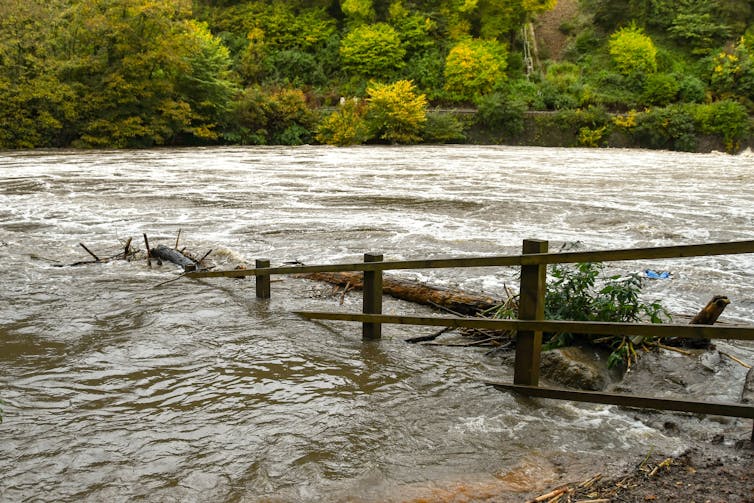 Humans offer little help
Several other factors also increase the likelihood that heavy rainfall this winter will cause parts of England to flood.
Over half of England's major urban flooding events in early 2022 were driven by underground blockages of dated sewerage systems. Their insufficient capacity caused them to fast become overwhelmed by debris floating in floodwater.
Some UK cities, such as Hull, Bristol and parts of London have also been developed on river floodplains. Land on floodplains is often cheap, flat and, as such, easy to build on. But this makes these cities prone to flooding. Flood risk mapping has revealed that 19% of Gloucester, a city in the southwest of England, is at risk of regular flooding.
Climate models are now predicting climatic changes and global weather patterns with increased accuracy. But mitigating against their environmental impacts often proves challenging.
England requires extensive infrastructure changes to reduce the threat of flooding. One option is to prohibit the construction of housing on floodplains. However, urban planning approaches such as this involve overcoming legal and regulatory barriers.
Another approach would be to improve sewerage capacity to account for population growth and its associated pressure on water use. Yet the completion of large infrastructural measures takes time. Various different stakeholders, including the public, must be consulted, while competing designs have to be assessed by experts and their impact modelled. It took 15 years, for example, for London's Thames Barrier to be completed following its initial conception.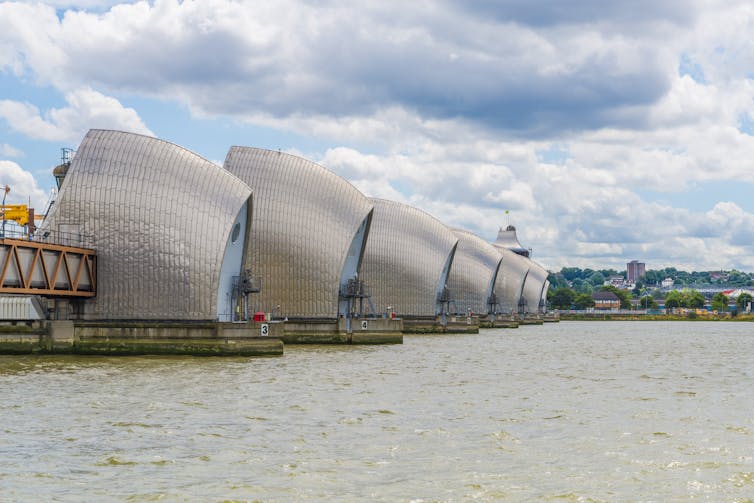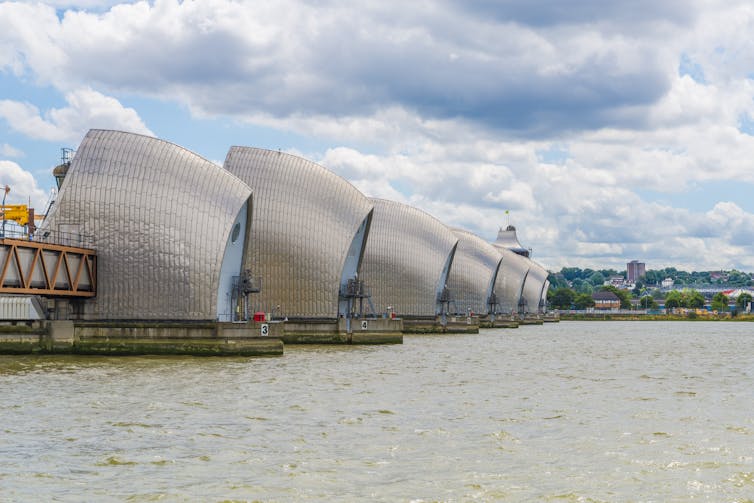 Flood management measures also require the political will for implementation. This has not always been forthcoming, particularly when flood management is considered unduly expensive or environmentally damaging.
For example, river dredging was long considered an unsuitable flood mitigation technique for the Somerset Levels in southwest England. But winter flooding in 2013-14 led to its immediate and ultimately successful implementation.
In the absence of these changes, the UK should brace for a fresh wave of flooding at the end of winter. Driven by a La Niña event, but exacerbated by urban development in areas prone to flooding and the impacts of climate change, the effects could be severe.