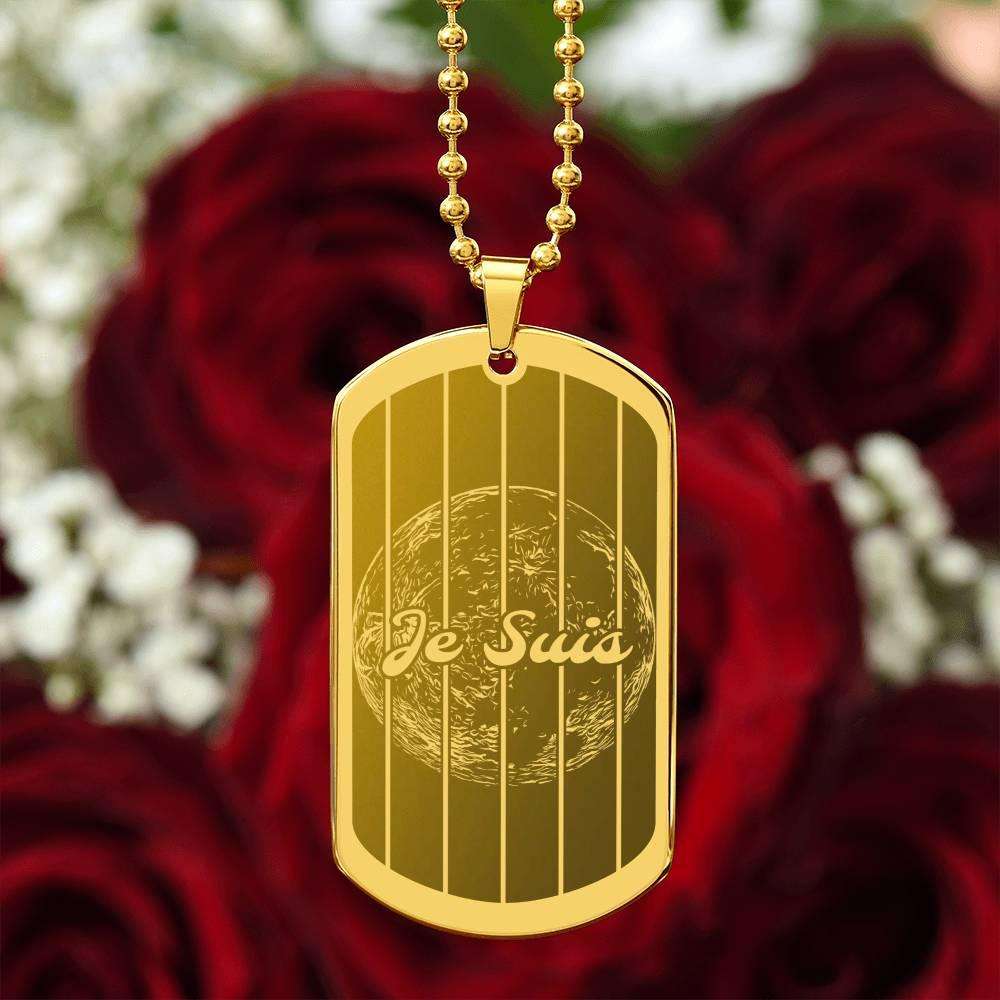 Madewithmiracles.com, a pioneering and innovative company, is proud to introduce a unique and historic creation that blends the domain of science, history, and spirituality. In honor of the 11.11 Armistice Day agreement and the end of World War II, the company presents "THE Dogtag," an exceptional piece of jewelry embedded with a genuine miracle.
Madewithmiracles.com, believes in the power of unity and faith in the miraculous, and the mission of the company is to provide people with tangible evidence that God exists, God is a person, and God is communicating with us. madewithmiracles.com have spent 25 years collecting over 100 extraordinary events, one of which is the focal point of THE Dogtag. This piece is designed to inspire a profound sense of wonder and unity among individuals worldwide.
THE Dogtag: A Symbol of Miracles
 THE Dogtag is not your ordinary piece of jewelry; it's a symbol of hope, peace, and faith. What makes this artifact truly remarkable is the incorporation of the 4th Eclipse of the Historic 2014/2015 Tetrad, a rare alignment of lunar eclipses, which in the UK began at exactly 1.11 and lasted for 111 minutes. This alignment of numbers is no mere coincidence; it's a testament to the miraculous nature of our universe and a calling to remember the peace agreement made on 11.11 at the 11th hour.
Our Vision: Unity Through Miracles
This artifact was created to commemorate the Armistice day agreement and was press released in the USA, a second commemorative Dogtag, embedded with a different 111111 miracle that occurred over Bejing in 2018 was press released in CHINA for release on 11.11.  Own this unique peace of history and pass the message forever to your family that these freedoms we enjoy were given to us not just by God but by those who fought and died for us in the wars.
 "madewithmiracles.com is on a mission to unite people in the knowledge that there are forces beyond our comprehension, guiding us towards peace and understanding. By showcasing tangible evidence of miracles, we aim to promote a sense of interconnectedness and shared spirituality among individuals from all walks of life."
 Services and Offerings
 At madewithmiracles.com, you'll find a treasure trove of unique items, each
embedded with real miracles. Our offerings include:
Jewelry: Explore a stunning collection of jewelry, each piece carrying its own miraculous story. From necklaces to rings, our creations are imbued with a touch of the divine.
Antiques: Discover antique items that have been touched by extraordinary events. These pieces offer a glimpse into history and spirituality like no other.
Gallery Art: Our gallery art pieces are not just decorations; they are windows into the miraculous. Each artwork tells a story that goes beyond the canvas.
Collectibles: From new year, thanksgiving and christmas cards, gift wrapping paper, tree decorations and the showpiece Tea and Miracles collection. Each artifact becomes historical in its nature to embody a Real miracle and with it, each piece has its own story, its own message of faith and unity.
Embrace the Miraculous
 madewithmiracles.com is proud to provide an avenue for individuals to connect with the divine and to experience the extraordinary in their everyday lives. Visit madewithmiracles.com to explore our vast collection and uncover the remarkable stories behind each piece. We invite you to witness the miracles and be part of a grassroots community that believes in the power of unity and faith.
Be a Part of This Celebration
 Join madewithmiracles.com in this incredible journey of faith and discovery, and let THE Dogtag and our other miraculous offerings remind you that miracles are not just things of the past but a beacon of hope for the future. This company is just launching in the USA and a Global International Launch will follow. Watch this Space.
Website  https://madewithmiracles.com/