Bitcoin price today in the evening had touched in the range of US $ 24,200, rose slick after the Fed softened with the increase in its benchmark interest rate last Wednesday. But observers say don't be surprised if it fades quickly.
The crypto market rally continued for a third day, after Bitcoin entered its best two-day span in more than a month, as investors accumulated the high-risk asset.
The price of Bitcoin was observed to have jumped 5 percent over the last 24 hours to enter US $ 24,000. When the article was written, at 19:54 WIB, BTC was slightly lower at US$23,560.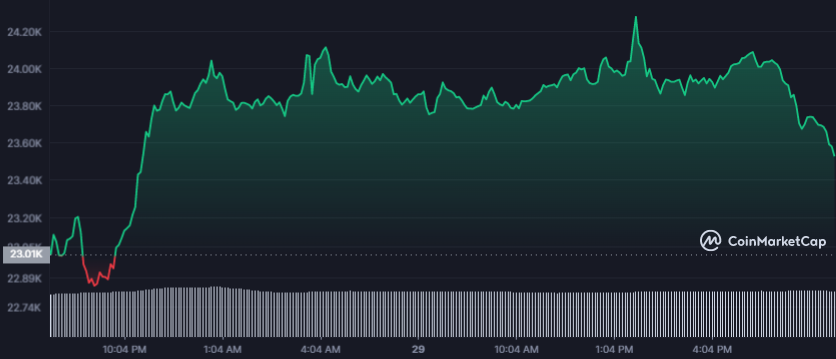 The rise in the number one cryptocurrency, is in line with the softening The Fed in raising the July benchmark interest rate by only 75 basis points similar to that in June.
Even the Fed Chair Jerome Powell emphasized that there are plans to cut interest rates starting next year, with no risk of a recession facing the US at this time. The facts show, the US is in technical recession territory, when yesterday economic growth slumped during the second quarter, the same as the previous quarter.
"Bitcoin is indeed getting its groove back," said Edward Moya, analyst at Oanda MarketWatch.
While Bitcoin continues to trade less than half its November 2021 all-time high near $69,000, the June bottom below $18,000 is firmly behind it.
Now, analysts and investors are watching to see if the latest rally has any strength or whether Bitcoin will fall back and continue to stagnate in the $20,000 zone.
"Bitcoin faces tentative resistance in the $24,000 range, but if it can't hold gains, the price could extend into the $27,500 region. The broad rally for crypto assets is great news for market participants, but traders shouldn't be surprised if the recent rally finally fades," he said.
Previously, market participants told CNBCthey want to see a better macroeconomic picture than today to ensure a clearer bottom for BTC.
Bitcoin has been trading in a range of around $18,000 to over $24,000 since mid-June. Ayyar from Luno ensure that many investors accumulate Bitcoin at that price. [ps]